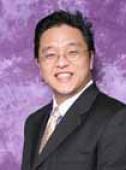 Clement Lee
BInfTech(DataComms), MInfTech, GradCertInfTech(InfoSec) Vice-President QUT Alumni(Singapore Chapter)
My heartiest congratulations to Hui & Kuah in their Silver Jubilee celebration. I am sure that Wendy and Philip have come a long way in providing premium services to facilitate our overseas education. This is evident in most, if not all, of the heart warming testimonials/feedbacks that we read from independent sources throughout Singapore. Their relentless methodological process, support and positive attitude are the key to their success, coupled with sincerity and friendship. This allows the "would-be" students a peace of mind with the warm feeling that they have been well taken care of…priceless.
On another note, we would like to pay our tribute to Hui & Kuah for their continual support toward the QUT Alumni (Singapore Chapter) and other alumni-based activities. They have the foresight to understand the importance of fostering close-ties with the graduates and their alumni, which is essentially the key link for communications with their alma mater.
Once again, our sincere thanks and congratulations to Hui & Kuah in the celebration of their silver jubilee.

Elizabeth Chan
Congratulations to Hui & Kuah on your silver jubilee.
Back in 1998, with my daughter's middle-of-the-road 'A' level results her choices of furthering her higher education appeared limited. As a parent, I am grateful for the assistance of an education consultancy – Hui & Kuah – who not only made our search for a university easier but was also able to offer advice on the various options available.
Our daughter, Elizabeth, finally decided to enroll into Murdoch University. The headaches and stress of filling up the application forms, obtaining the student visa, travel and accommodation were all professionally handled, and the personal touch was very heartwarming and assuring.
Elizabeth has since graduated and is currently happily settled into her job.
Once again, my grateful thanks and congratulations to Hui & Kuah!
Jessie Chan
Parent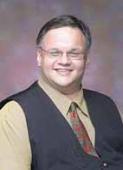 Ian Poulier
School Counselor St. Francis Methodist School Singapore
Congratulations to Wendy and Philip on Hui & Kuah's Silver Jubilee!
When I think of Philip and Wendy Kuah, I think of two genuine people who have this desire to make other people's dreams come true. I have never seen Hui and Kuah as a 'business' per se; it's an extended family that rallies around you and makes you feel unique, that makes you feel special as they prepare their clients for a journey that would change their lives.
The beautiful thing about Hui and Kuah is that they are more concerned about our welfare as a student which makes the journey more rewarding and fulfilling. Thanks Wendy and Philip for making all our dreams come true! May you continue to be a blessing to so many other students!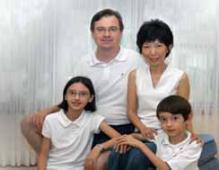 Jade Teo & family
Congratulations on Hui and Kuah's Silver Jubilee. I am really happy for your success but not surprise as I have personally experienced the excellent services you have provided.
I remembered going to you in 1986 asking for your help to find me a university to go to. As an applicant, there was much anxiety and confusion on how to begin. But with your patient guidance, you walk me through the maze of information and paperwork. Your assistance did not stop there. You went out of your way to connect me to a student who has gone before me. The moment I reached my destination, I was received by your student and housed temporarily until I found my own place.
I really enjoyed my stay in Canada. I not only completed with a first class honours but also found my life partner. Just to update you, I now have two lovely children. I am now working as a Psychologist in a VWO. I really appreciate the personal effort you have taken to go beyond your professional obligations as an Education Consultant. You may not have realized how much you have done to help fulfill someone's dreams and their future. Well done for an excellent legacy!
Yours sincerely, Jade Teo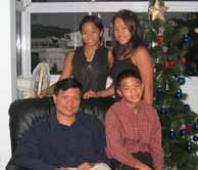 Jason Chong
I met Wendy some 21 years ago. I was working for about 6 years and had decided to go back to pursue my study. My goal was to do an engineering degree in the USA. Unfamiliar with the procedures and options available, I went to Hui and Kuah to explore my options. Wendy was very friendly and explained the difference in education system between our local education and those in the USA. She also helped me to apply for admission to a couple of Universities of my choice.
While I made necessary arrangement to apply for no-pay leave from my employer, she did the necessary processing to facilitate my smooth departure for the United States. In those days, it is a frightening experience for any young teenager to go overseas to study, where they are alone, without friends and having to adapt to the culture shock and it was not much different, even for a young working adult like me. Wendy made arrangement for me to meet up with others who are going to the same university and others who were also proceeding to the US for studies.
I was accepted into the University of Toledo, Ohio. With her contacts from the Office of International Student Affairs, we felt very safe upon arrival there. The staff linked us up with some Singaporeans who were already studying there. We had an easy time settling down before starting school which was about a week after our arrival. This warmth and hospitality shown by the seniors created a net work of "pay-it-forward" among the Singaporeans students later on. All those students (some of the beneficiaries were non-Singaporeans) who have received this hospitality will extend similar hospitality to future new arriving students. This included opening up their apartments for temporary housing and providing meals and transportation while the new students look for permanent lodging. We eventually established the Student Association of Singapore under the umbrella of the International Student Associations and we had the Dean of the Office of International Students Affairs as our Advisor.
I kept in touch with Wendy and during my regular visits back to Singapore; I found time to meet up with new students and their families as they prepared to go overseas to study through Wendy.
After persevering for four years, studying, working part-time, being a student leader, I finally graduated with a Bachelor Degree of Science in Electrical Engineering and two baby girls born over there. I enjoyed every single moment of my times in the United States, the US friends that I made (we still keep in touch), the fellow Singaporean students whom we still gather and meet today. In fact, I have a group that meets almost every weekend for dinner.
Wendy has helped me start a wonderful chapter in my life, an overseas education that has lead to many new friendships, a wonderful career and a beautiful family.
Thank You.
Jason Chong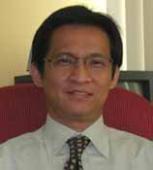 Johnson Yap
General Manager MayBank Ho Chi Minh City Vietnam
Congratulations to Wendy and Philip on Hui & Kuah's Silver Jubilee!
Choosing the location and the institution to study is never easy, especially when that decision involves leaving the comfort of your home and going to a foreign land totally alien and faraway. I still remember stepping into Hui & Kuah's office 25 years ago, at the tender age of 16, without a clue as to what overseas education was all about let alone which country to go or college to attend. All I wanted was ultimately to graduate with a degree from a well-established university abroad.
I took the advice of Hui & Kuah to enroll first at St Columba College in Toronto, Canada for my matriculation without a moment's hesitation and never regretted the decision to allow Hui & Kuah to act as my counselor and guardian in my venture overseas for a higher education. I was really impressed by the commitment and concern demonstrated by Hui & Kuah, who accompanied our inaugural batch from Singapore to Canada. Their presence was a source of comfort and assurance for me during the transition.
With Hui & Kuah successfully paving the way for my overseas education, I went on to graduate from the University of Western Ontario with a Bachelor of Arts degree. Armed with my degree and capitalising on my overseas experience, I embarked on another mission to attain my MBA at the University of Queensland, Australia. Upon graduation, I joined Maybank in Singapore and worked to my present position as the General Manager of Maybank, Ho Chi Minh City branch. After all these years, I finally have the opportunity to thank Hui & Kuah for the excellent advice and painstaking effort in ensuring that my path to higher education has been an enriching and rewarding experience.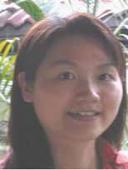 Li Juen
Congratulations on Hui & Kuah's Silver Jubilee!
Hui & Kuah had provided me with administrative support for my overseas studies such as the accommodation and visa application. This has allowed me to hold a full-time job at that time with no worries. My queries were always answered promptly without fail.
There was a sharing session arranged and contacts were exchanged with fellow Dietetics course mates who were already studying at Flinders University. This pre-departure briefing and sharing created a peer support link, which really helped me to settle down in Adelaide easily making me less fearful of studying at a foreign land alone. I have since graduated from Flinders Uni, and working as a dietitian at Alexandra Hospital Thanks for all the services and arrangements by Hui & Kuah, really appreciat
LiJiuen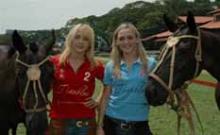 Louisa and Alicia Hutton
– English passport – Singapore PR's. Born in UK grew up and educated in Asia. Graduated UWCSEA Singapore.
We would like to say a big 'thank you' to Hui & Kuah Pte Ltd for helping our two daughters to apply for and be accepted into Murdoch University in Perth, Western Australia. I am positive that we would not have been able to have them start when they did without Hui & Kuah Pte Ltd's help.
Everything went so smoothly from the initial interview with the University to the visas and medical etc. We were very tight with timing yet the girls were able to start Orientation as planned. They both were given places at The Student Village Accommodation all quickly arranged by Wendy. The first visa arrived at 5.00 pm and Louisa was on the 9.00.am flight the following morning to Perth. The same thing happened with Alice the next day.
Your attention to detail and dedication to completing the task is an example to others and your focus on following up was quite remarkable – even to the extent of being in direct contact with my daughters while they were waiting for transport from Perth airport to the University and making sure that everything was OK when they arrived. I was at the time on a business trip to Barcelona and you even kept me informed of what was happening.
It was a pleasure to work with such a professional company and we would have absolutely no hesitation in recommending you to others who are going through the challenges of sending their children abroad to university.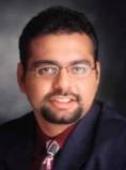 Nisar Keshvani
Few realise, that pursuing further education – whether local or overseas, at undergraduate or post-graduate level – is one of the toughest decisions – an individual can make. It is a life-changing experience!
For many organisations in this field, their task is to best match potential students to educational institutions according to their dreams, motivations and aspirations.
Hui & Kuah Pte Ltd, however, is one of the few that puts soul into this task. From the first point of contact, one immediately feels comfortable. From the warm reception, to the unhurried discussions to meetings with University staff. Hui & Kuah's philosophy is simple – provide the student with relevant, precise information and support them – let them make the right decision, within their desired time frame.
In 1998, I was hungry to pursue further study. Wendy Kuah, Director, was great with offering guidance and preparing us. She organised meetings with University staff, our airtickets and visas. Knowing we were all nervous, she organised pre-departure get together and invited alumni to speak to us, which was great.
More importantly, it's the little things that I will remember, like how I had to come home immediately after my post-graduate study. I was then, moving homes so was hard to locate. She managed to still trace me, and told me that since I was back home, I should not miss out and could instead attend a local graduation ceremony.
I hope Hui & Kuah continues its impeccable service and helps our future generations for a long time to come.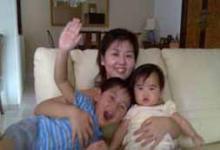 Pamela Tan
Many years ago, while researching on studying in Canada, I chanced upon the services of Hui & Kuah. Soon after speaking with them, I found that not only does Hui & Kuah have a wealth of knowledge on many overseas institution, they truly cared for the students who came to them. There were many pre trip arrangements that were meticulously thought through and prepared for; from meeting other Singaporean students before the trip, getting student visas set up, arranging of banking facilities, airport pick up and accommodation arrangements etc, I was able to settle down in the new environment quickly. The relationship with Hui & Kuah did not stop at getting me overseas – the yearly birthday wishes and occasional "hello" notes kept coming all throughout my years overseas and beyond!
Thank you Hui & Kuah for the help and support you have given me in the past. Congratulations on your Silver Jubilee and May you have many more great years ahead!
Best Wishes,
Pamela Tan Queen's University (Canada) B.Comm (Hons) graduate